Watch to see the secret on the back of "I'm Just Passing Through".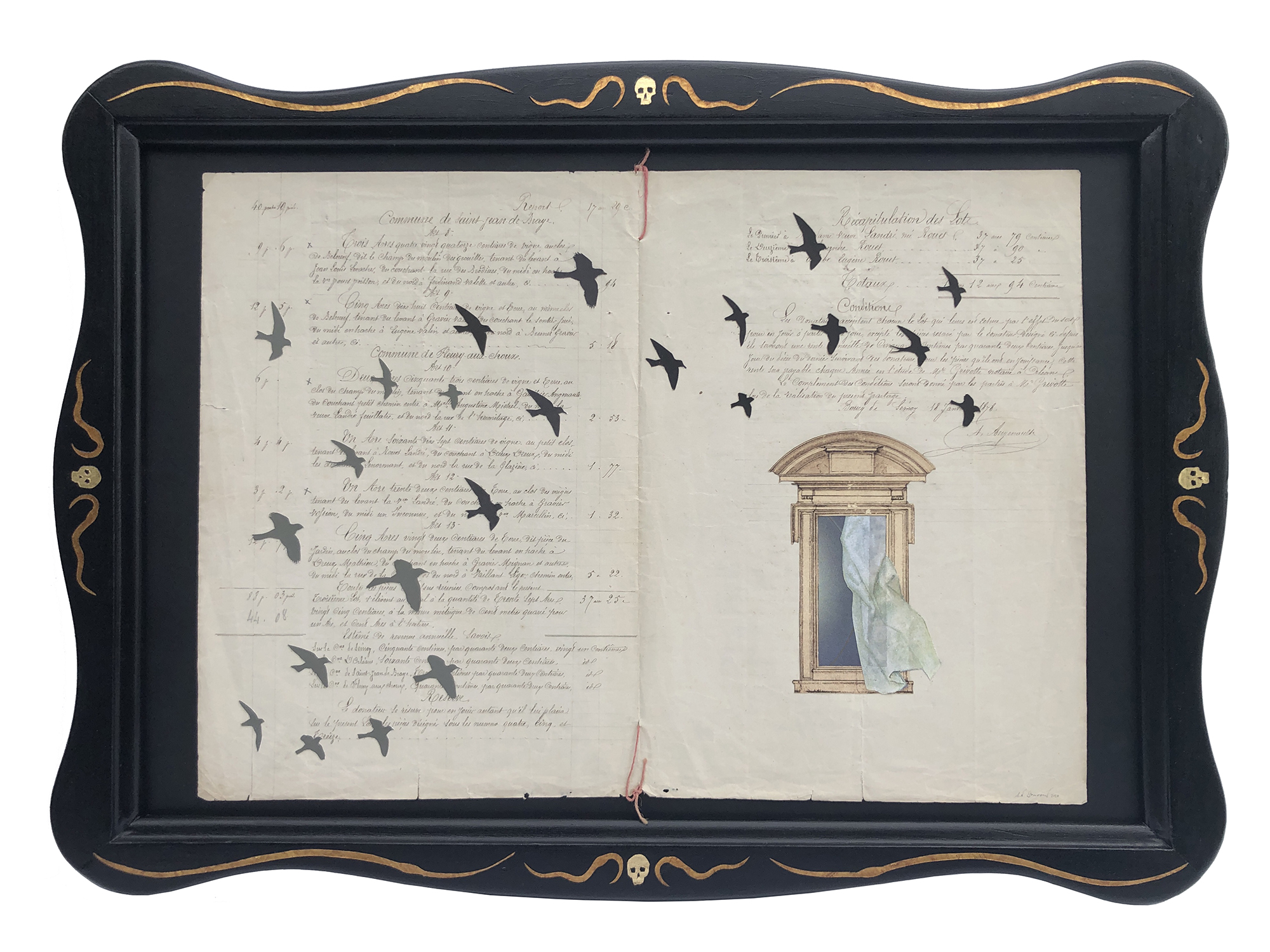 "I'm Just Passing Through" (Front) vintage, decorative paper & metal leaf hand-cut collage, colored pencil on 1878 document, 1880's wood frame, 15 1/2 x 21 5/8 x 3/4, 2021
"I'm Just Passing Through" took me a very long time to create. I love the delicacy of this 1878 document that serves as the background for my collage. I had to figure out a way to mount it in order to preserve the wrinkles, which would have disappeared if I had glued it down, yet the normal methods would not work since the paper was so fragile. I also love the string that was a part of the document when I found it and wanted to preserve that too.
 
I stripped the antique frame, repaired and repainted it, and then employed decoupage to add the golden skulls and worms on top. You might be prompted to ask "Why golden worms?" I have long been interested in transforming that which we typically find ugly or distasteful into something beautiful. In this piece, you can see how deeply the past year has influenced my work. I felt moved, as other artists through the centuries have before me, to respond to the effects of the pandemic. We hardly need another momento mori as death seems to be lurking around every corner, but perhaps we do need a momento vivere – a reminder to live despite all the darkness surrounding us. Life is beautiful and is perhaps all the more so because it is fleeting. This beauty is present despite despair and the tremendous suffering we experience and witness. We are just passing through.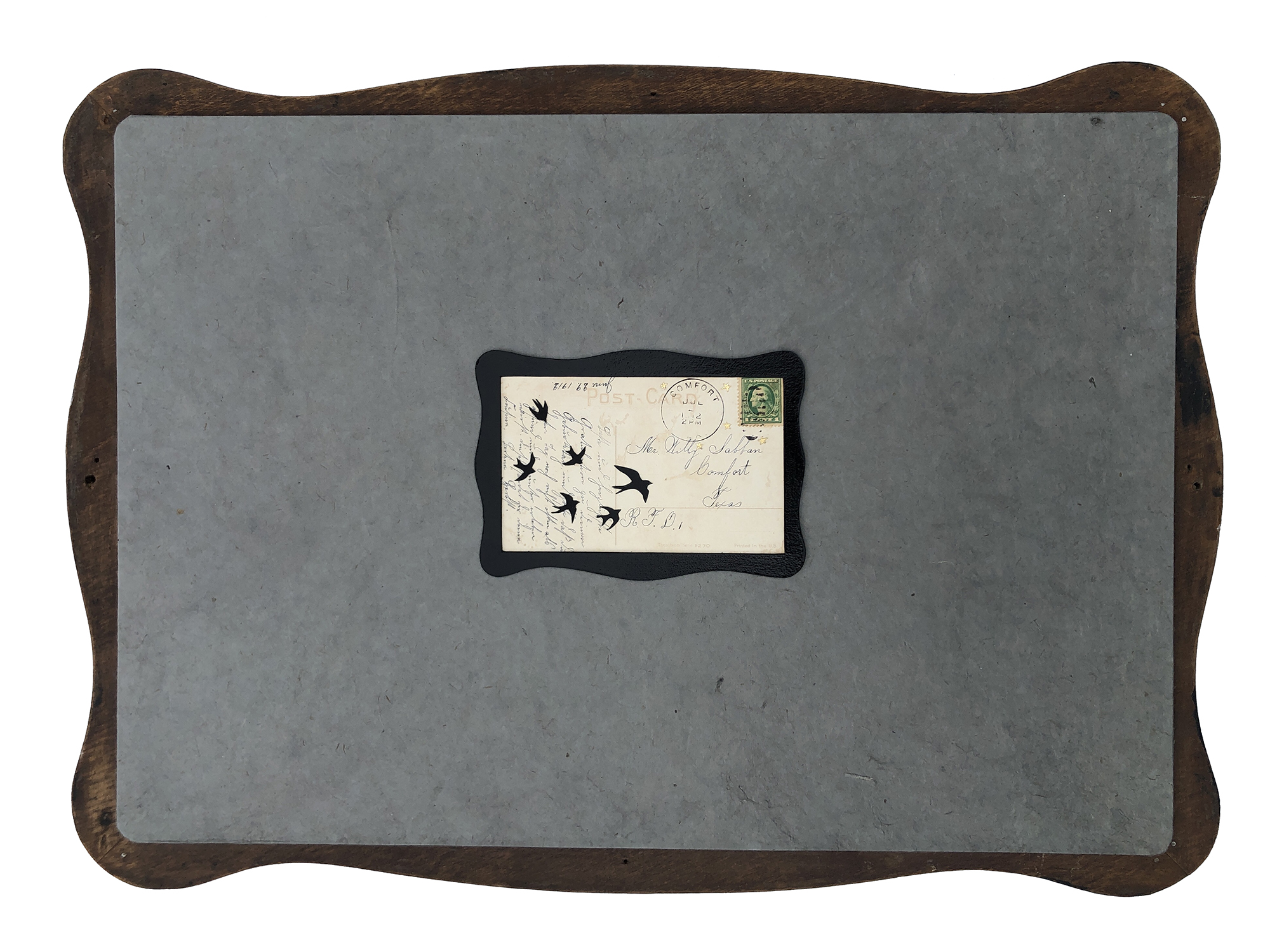 The back with the reversible collage/ birthday greetings.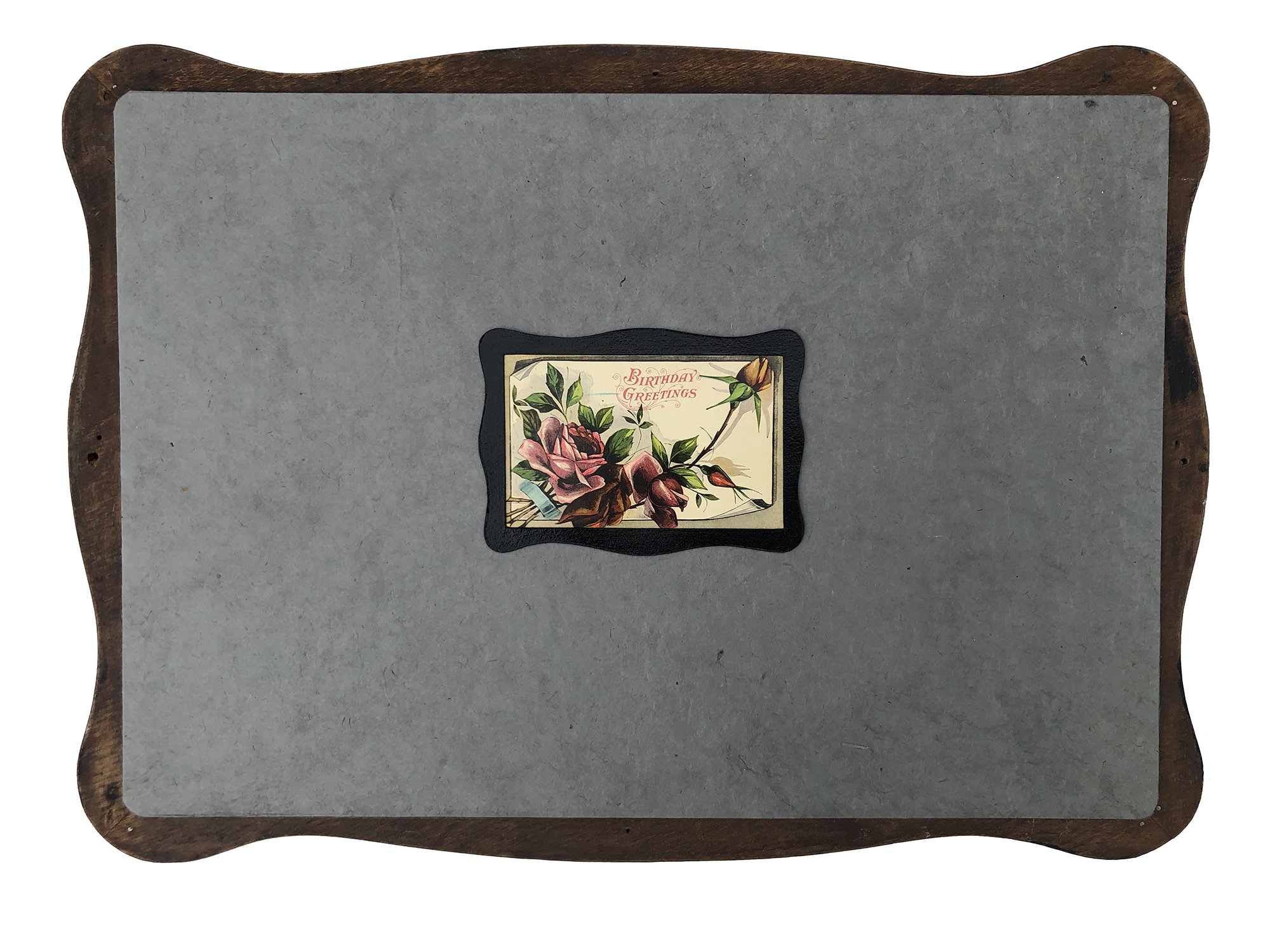 I have been creating collages on the back of works in "The Mysteries" series in addition to the front. I think of them as little mysteries, a secret kept between the piece and the person who lives with it, or simply as a surprise. "I'm Just Passing Through" is special because there is yet another secret. The 1912 postcard that I collaged can be removed so that the front can be viewed. I felt it was too lovely to condemn to a gluey fate, so I devised a frame using board, from which the postcard can be removed and the other side can be viewed. I feel the postcard is a perfect metaphor for one who is just passing through…and I find the address, which reads "Comfort" to be appealing.