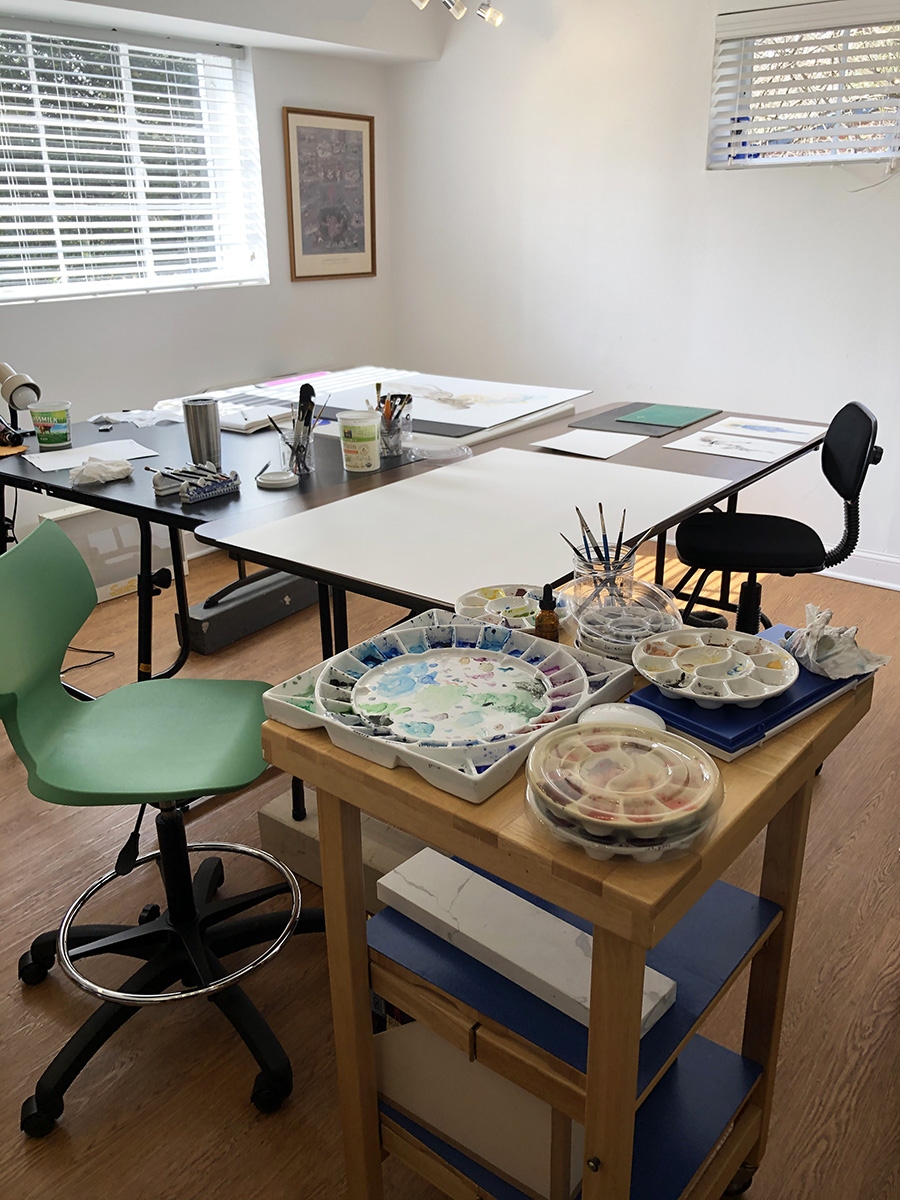 My studio in Bethesda, Maryland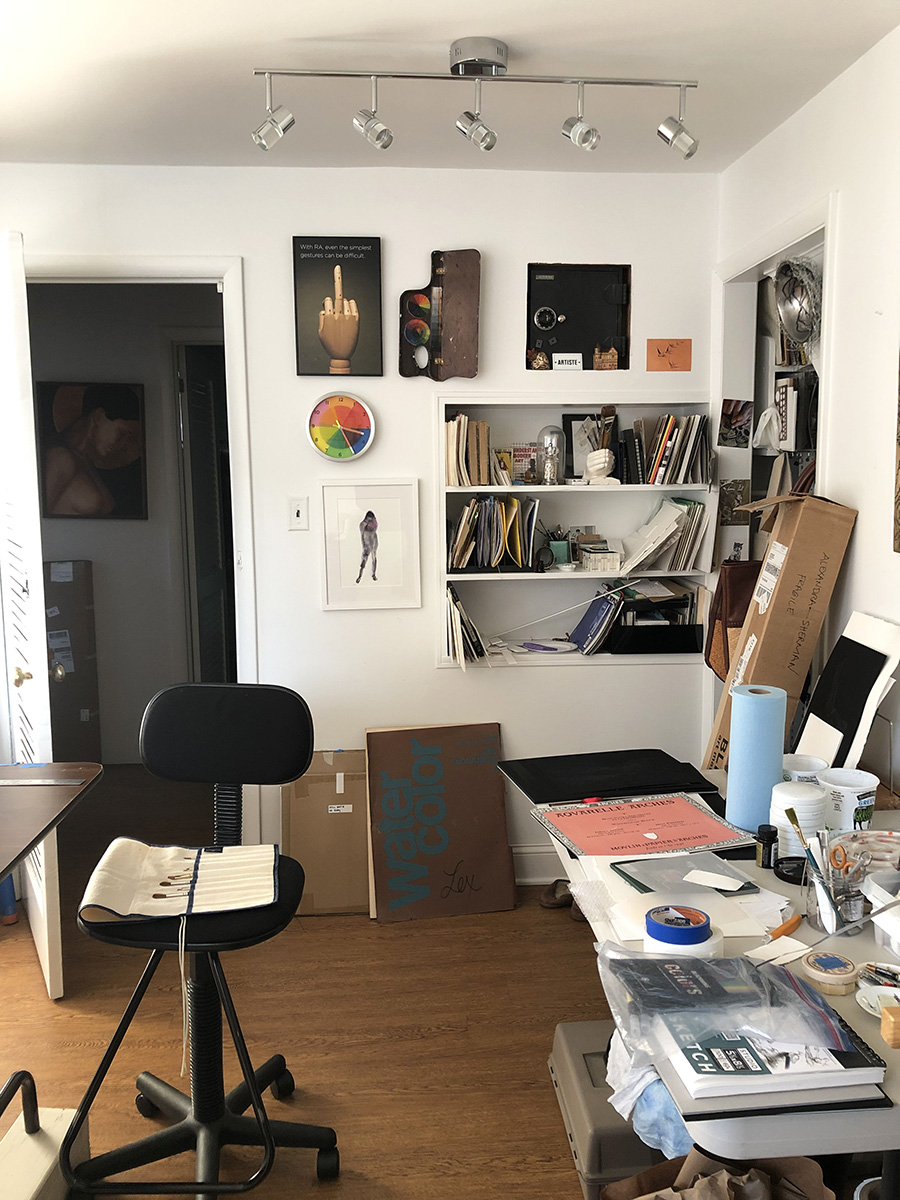 We sold our house in Bethesda, Maryland, in November of 2020 and with it my studio. It was a cheerful space with lots of light and it was hard to leave. My parents welcomed me and my family to stay with them on their farm in Upperville, Virginia, until we found a new home and offered me the use of the tack room in their barn, where I spent many happy hours creating in the past. It was nice to return to a familiar space.
Part of what is so important about a studio for me is that it is a place where one can be apart and work without extraneous noise and disruption, all of which allows me to focus. This is why I prefer a home studio rather than one where I might have interactions with the public unexpectedly. I have always felt the necessity of retreating from the world in order to make work that reflects upon it. I am so thankful to have had a space to continue my work throughout the pandemic.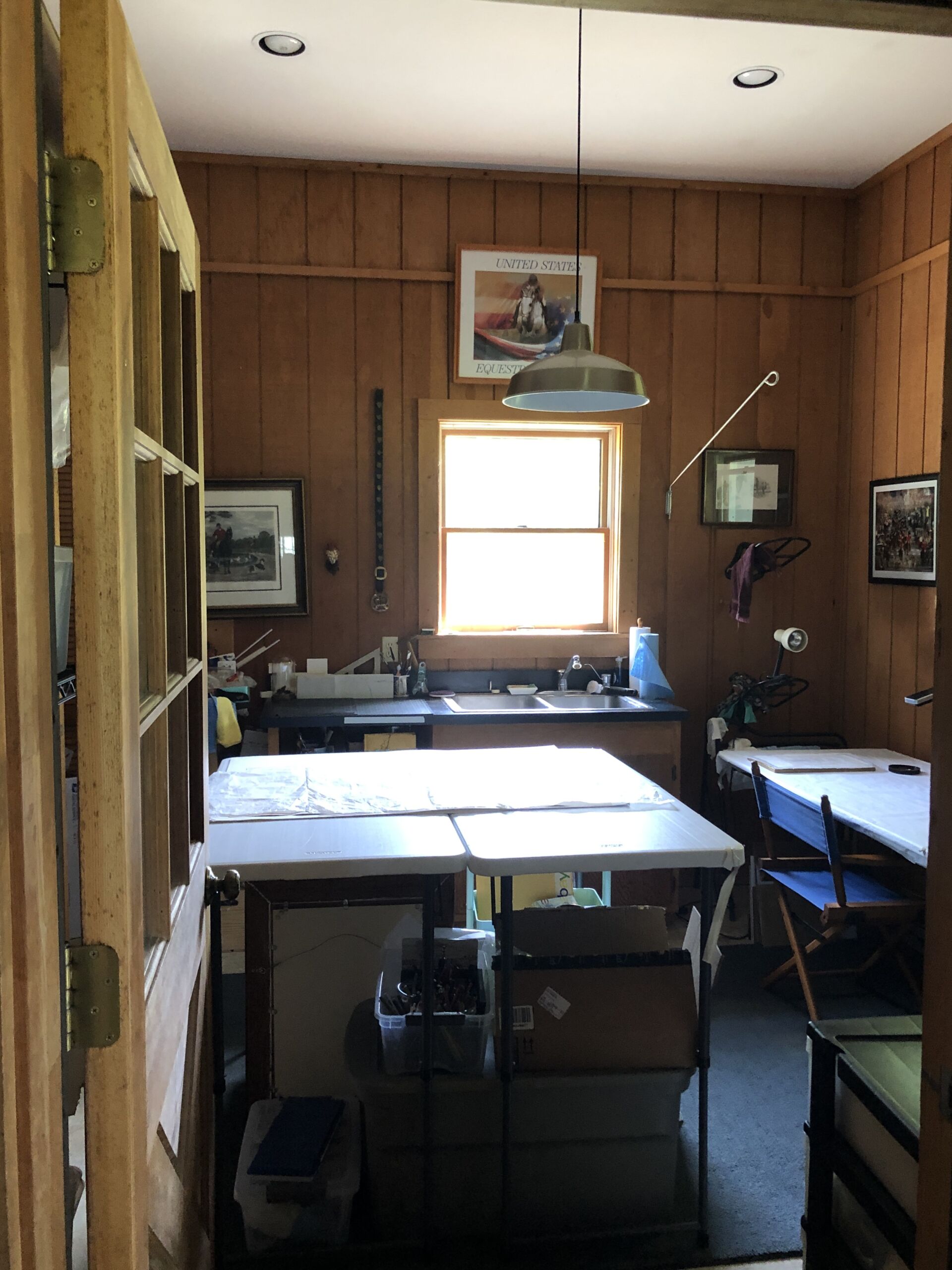 My Tack Room Studio, Upperville, Virginia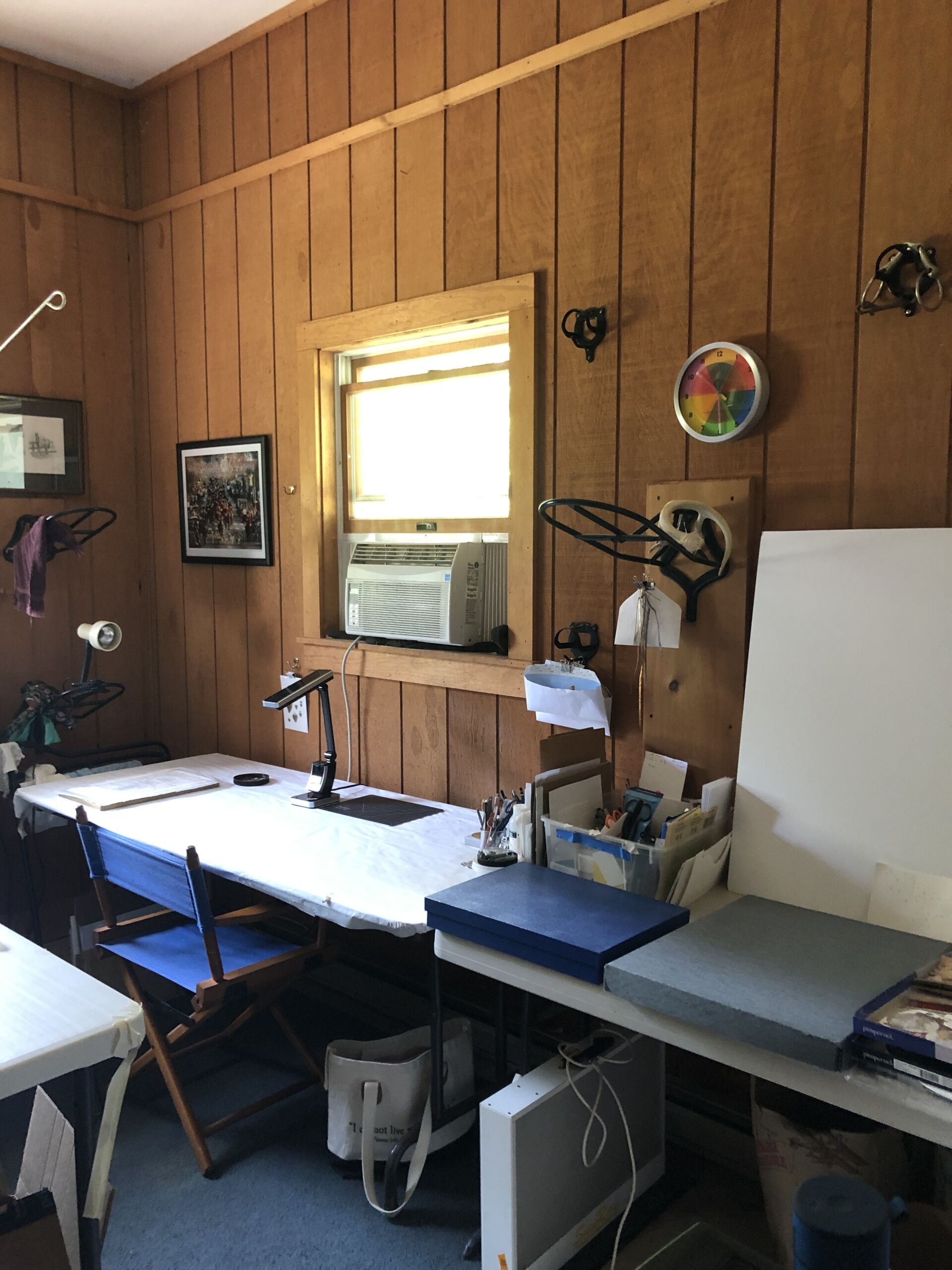 The tack room has a northern exposure making it possible to work without turning on the lights except on the grayest of days. It has a sink, which makes life much easier when working with glue. The room is about 150 square feet. Luckily, I was cutting up tiny pieces of paper for most of my sojourn there but it was certainly tricky to manage multiple projects all requiring a flat workspace particularly with framing. You would not believe how much I managed to stuff into that space!
I embarked upon creating 'The Mysteries' series at the beginning of the pandemic. Initially what started as small intimate collages, which were no larger than a large art volume, have gradually demanded more and more table space. I am currently working on a piece comprised of pieced ledger pages dating from 1870 which measures 36"x 48"!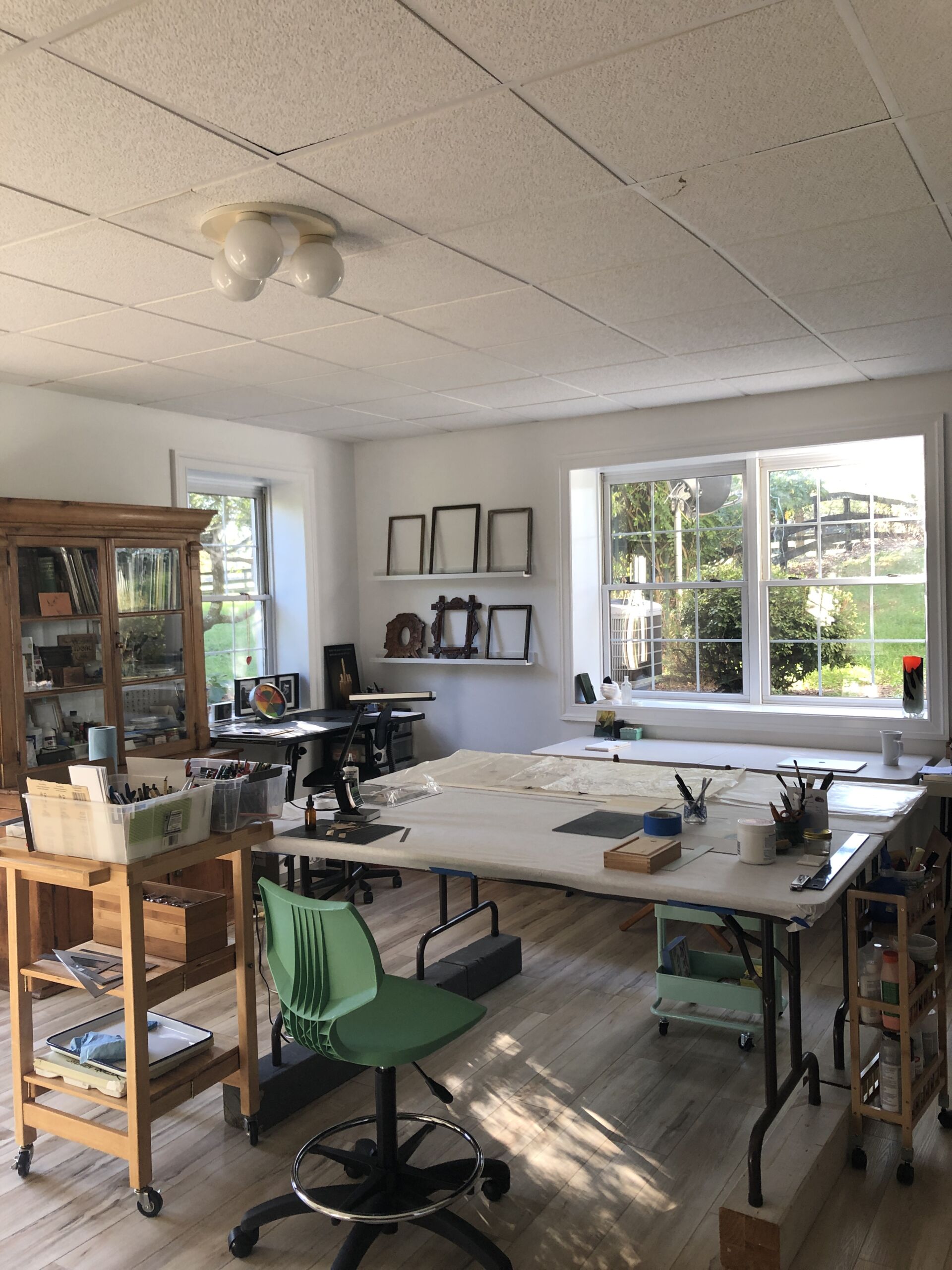 One corner of my new studio in Round Hill Virginia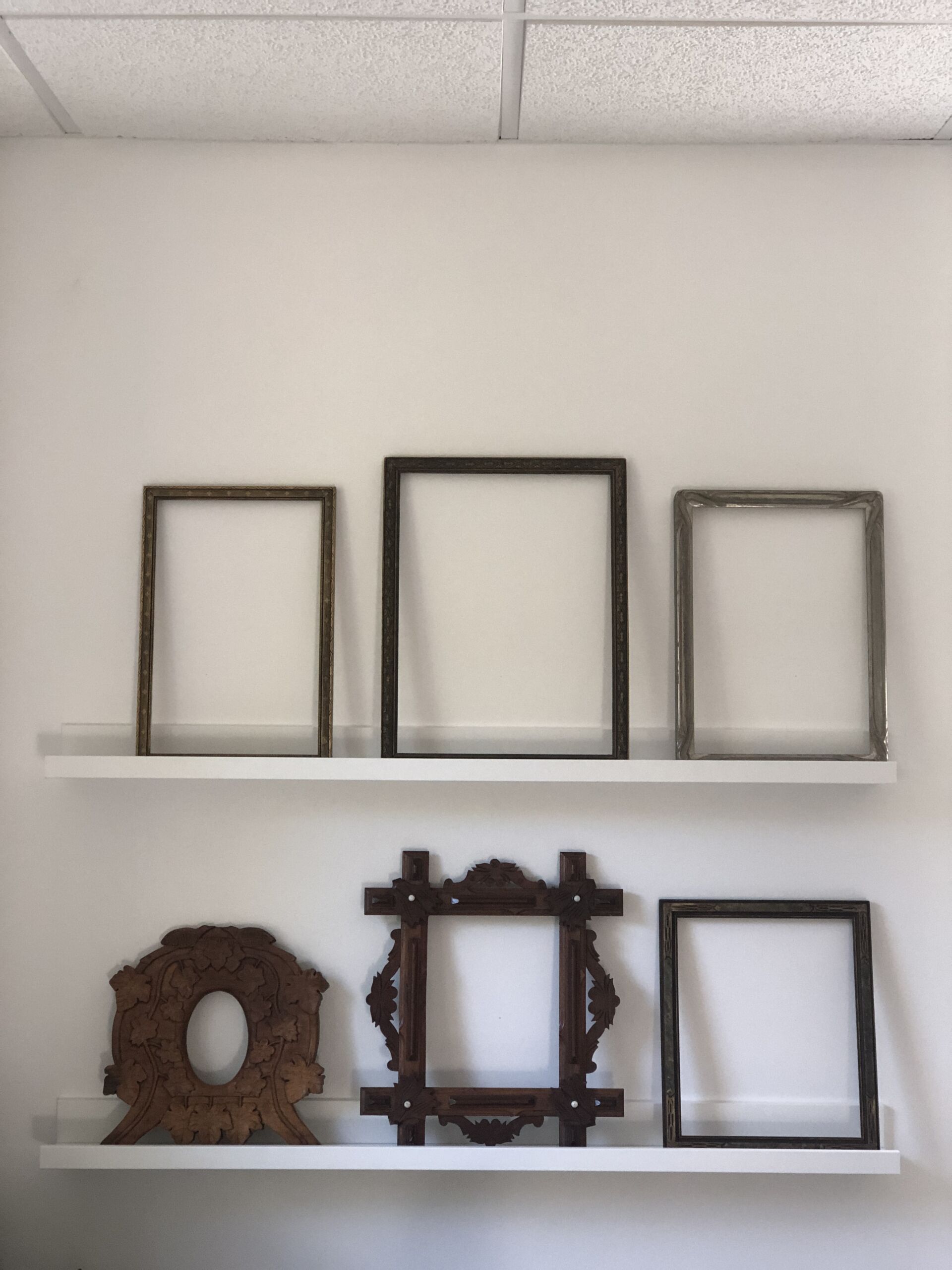 My vintage and antique frame display
My new studio is a large, light-filled space with so much room I admit at first I wasn't quite sure how to fill it! I am installing a gallery hanging system so that I can continually change the work exhibited on the wall for studio visits, photoshoots, and for my own contemplation. It isn't until you view your work hanging on the wall that you realize the importance of seeing it all together. Seeing four of 'The Mysteries' display together on a wall in 'Women of the Pandemic' at the Qatar America Institute for Culture is a gift! The series was only in bits and pieces in my mind, seeing it together, at least in part, allows it to coalesce.
I have plenty of space for tables and I can keep the racks of packing materials and frames waiting for just the right piece of art in the unfinished area of the basement, allowing for less clutter. I have also installed shelves to display empty frames. I have collected a number of interesting antique and vintage frames over the last two years. Having the frames on view will keep them present in my mind and allow me to find or create the right match for them. I feel lucky to have a space large enough that I can surround myself with possibilities visually. I am also of the opinion that frames are artful in of themselves and should be enjoyed as such. Some of my pieces have started with the desire to fill a particular frame and others start with the art first.
I look forward to sharing studio updates with you as the space evolves!