The Mysteries, The Mysteries series, vintage prayer cards, vintage and decorative paper collage on 1903 invoice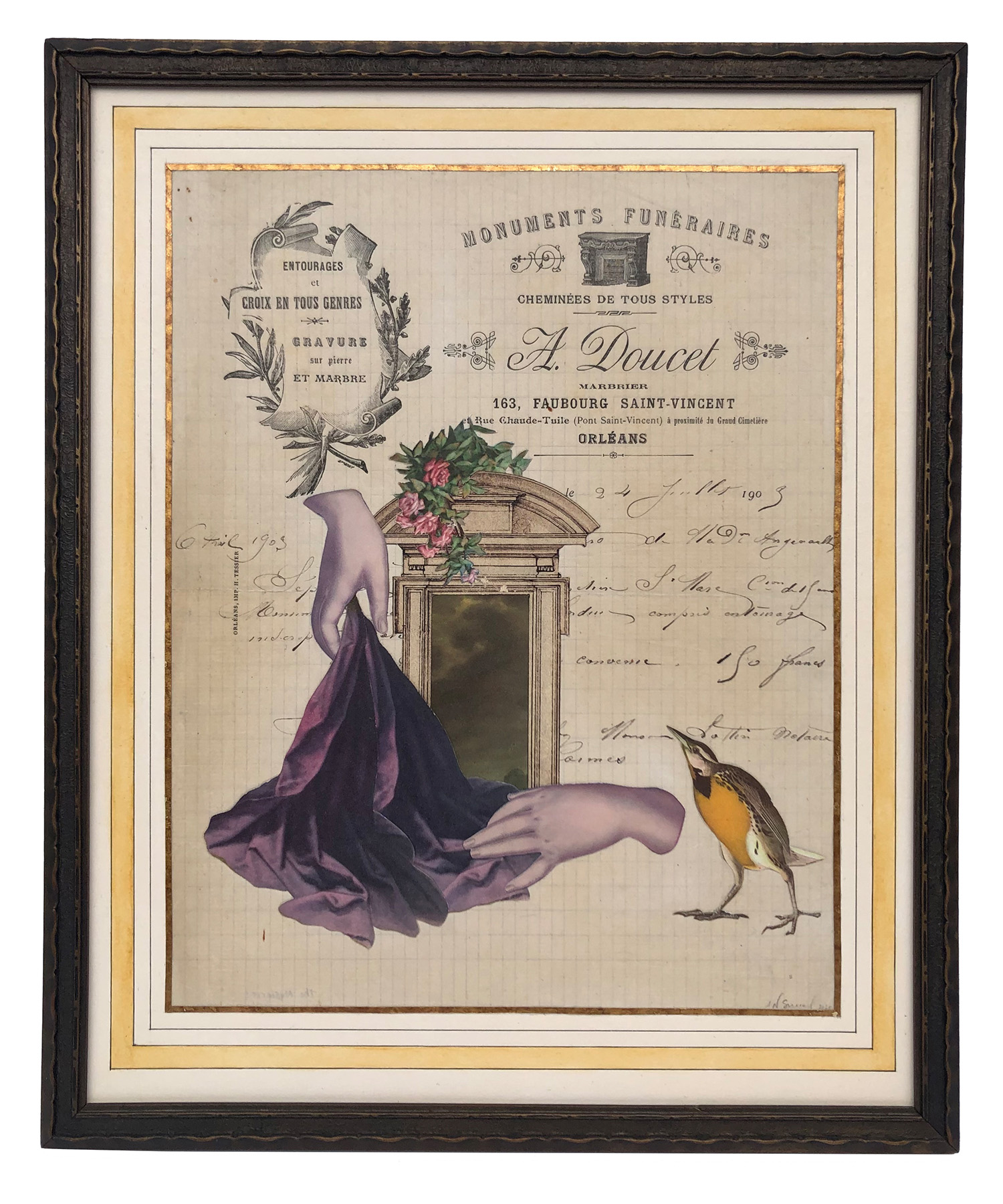 The Mysteries (Completed), The Mysteries series, vintage and decorative paper collage on 1903 funeral monument invoice, watercolor, 13 15/16″ x 11 9/16″ x 1/2″,2021
March 20, 2020
Dear Friends,
How drastically the landscape has changed since I wrote to you last month. I hope that you are all well and able to stay home as much as possible.
My thoughts lie with all the medical professionals and first responders who are on the front lines of fighting this pandemic, and showing up despite great personal risk, and those who are continuing to make deliveries and stock and run our grocery stores, pharmacies, and gas stations. For the rest of us… it seems strange to contemplate the fact that performing or civic duty right now is comprised of staying at home whenever possible to flatten the curve.
Other than 9/11, I cannot recall ever facing such great uncertainty in my life. I have been watching this pandemic unfold and sought the comfort of creativity in order to channel my anxious energy into something more productive. I've been lucky to be at home and able to retreat into my studio for bits of time. I have been finding the concentration required to cut up small and intricate elements for collage an excellent practice to manage spiraling anxiety over our collective situation. In the periods of great distress, I have always turned to the arts to soothe me… a feast for the eyes, music to soothe the soul, and another world found between the pages of a book.
I was curator of the Dadian Gallery at Wesley Theological Seminary from 2009-12. While working at the seminary, I was exposed to religious kitsch on a regular basis by several people who had wonderful collections and playful senses of humor. I also became interested in how religious symbols are used in art. I'm not sure that I can entirely explain why I feel so drawn to these Catholic prayer cards. I do not practice a religion, and I did not grow up in the Catholic tradition. But there is something about how over-the-top these cards are… They are sappy and can represent the very worst of religious art! Despite this, I find the earnestness with which these images were created endearing and compelling. It is interesting that each card has a specific meaning and purpose. When I stumbled upon a few stacks of vintage prayer cards, while hunting for paper ephemera for my collage work, I snapped them up.
The cards are chromolithographs which I love for their subtle and soft gradations of color. I believe the cards I have date from the 1930-60's. I appreciate the feel of the smooth paper, it cuts well, and takes glue without buckling, yet is not overly thick. I had questioned whether or not it was okay to make use of these cards because of their age, and concern that some might find what I am doing to be disrespectful, although that is certainly not my intention. It is strange that as the daughter of an antiques dealer, who grew up preservation minded, that I have gotten to this place of, what some might consider, destroying artifacts. I am collaging elements onto paper that is over 100 years old (who do I think I am?)! I am cutting up holy cards! Both of these acts feel risky and transgressive. But I also see it as giving new life to these beautiful, yet largely unwanted pieces of ephemera, although I might burn in hell for it!
I have purchased and downloaded digital images of antique cards, and tried reproducing the ones I have. I even bought an art printer and tested all sorts of paper. Ultimately, a print of a print is deeply unsatisfying in terms of color reproduction, and the lack of the qualities inherent in old paper, but I have made use of reproductions in some case.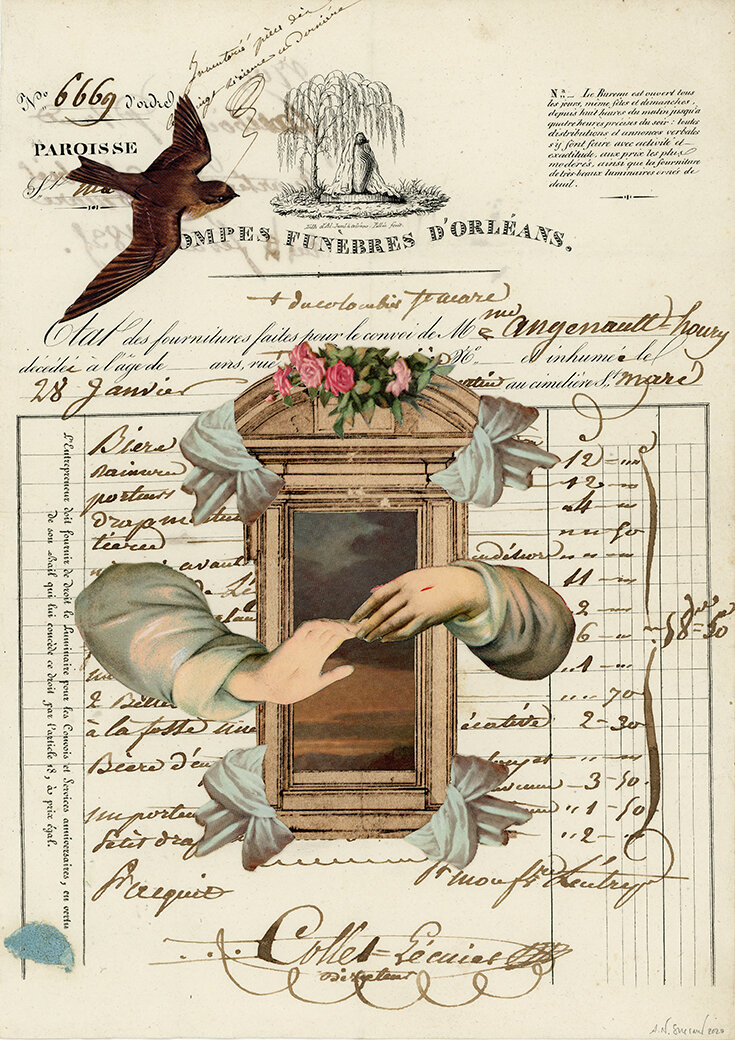 Untitled (still debating a title) The Mysteries series, vintage prayer cards, vintage and decorative paper collage on 1893 invoice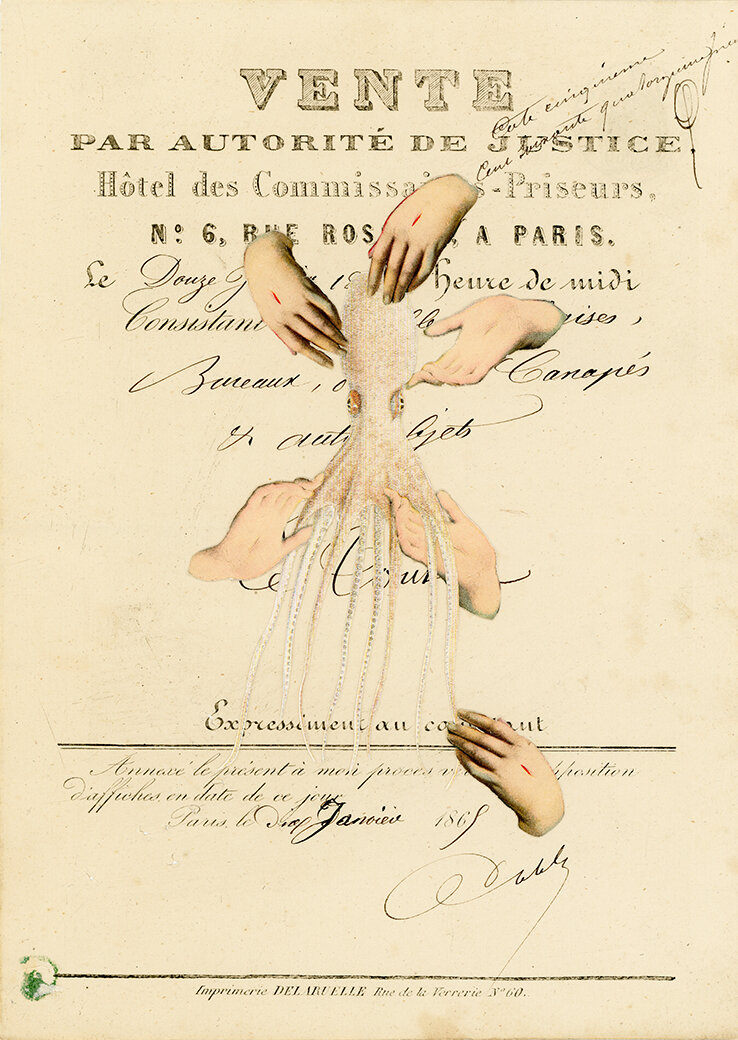 Untitled (still debating a title) The Mysteries series, vintage prayer cards, vintage and decorative paper collage on 1869 invoice
After preserving one of each of the multiple cards I have for my own collection, I started cutting out elements like sacred hearts from them. I liked the idea of a loaded religious symbol suddenly out of context, given new meaning by juxtaposition. Soon I began excising hands, changing the meaning of their gestures by placing them in different contexts and different positions. Christ's benediction becomes a shrug; fingers seem to grasp and hold rather than invite. I find the idea of disembodied hands acting out vague dramas appealing. To me the hands are an apt metaphor for power and inequality.
I have a decorative paper, I bought over a decade ago, printed with architectural renderings of doorways. I have finally found a use for this paper! A new series with doors is emerging. The doors are a metaphor for a number of things, the most basic being death and uncertainty. I have been placing bits of the dramatic landscapes from the holy cards inside the doorways. These landscapes transcend kitsch when taken out of context and represent the sublime found in nature. Some of the doorways open onto scenes shielded from view by drapery.
The first two collages I created (shown here) are on turn of century, French funeral monument invoices dating from 1893-1903. They are beautifully printed in their own right and covered with elegant handwritten script. The doors become tomb like in this context, fondly reminding me of my wanderings around the great necropolises of Père Lachaise and, Montparnasse in Paris, and Recoleta and Chacarita in Buenos Aires. The reality of so much death around the world has made its mark on this work.
In addition to these darker interpretations associated with endings, the doors also represent new beginnings and opportunities. A friend of mine remarked that we often connect the word "fear" with that of "unknown." Why do we so often view the unknown with fear, when more often than not, new experiences bring good things into our lives? Alas, it is very difficult to view the unknown in a positive light at the moment. The landscapes within the doors also represent the comfort and connection which I find in the natural world.
I have tried to create something meaningful and beautiful with these collages. To me they are images of peace and acceptance, although I do not feel peaceful or accepting of our situation.
Stay well friends.
Alexandra