February 20, 2020
Upon booking my art pilgrimage to London, I immediately began to search for "what was on." I was delighted to find that the National Portrait Gallery of London would be having an exhibit entitled Pre-Raphaelite Sisters, highlighting the contributions and works of twelve women associated with the movement. The exhibition was curated by Jan Marsh, an art historian who has focused on and written about the women involved in this movement.
As someone who has been interested and inspired by the Pre-Raphaelite Brotherhood movement for many years, I was aware of most of the women who were highlighted in the exhibition, but I had not had the chance to see much of their work in person. This is in part because it is only recently that there has been scholarship and exhibitions highlighting the lives and works of these artists.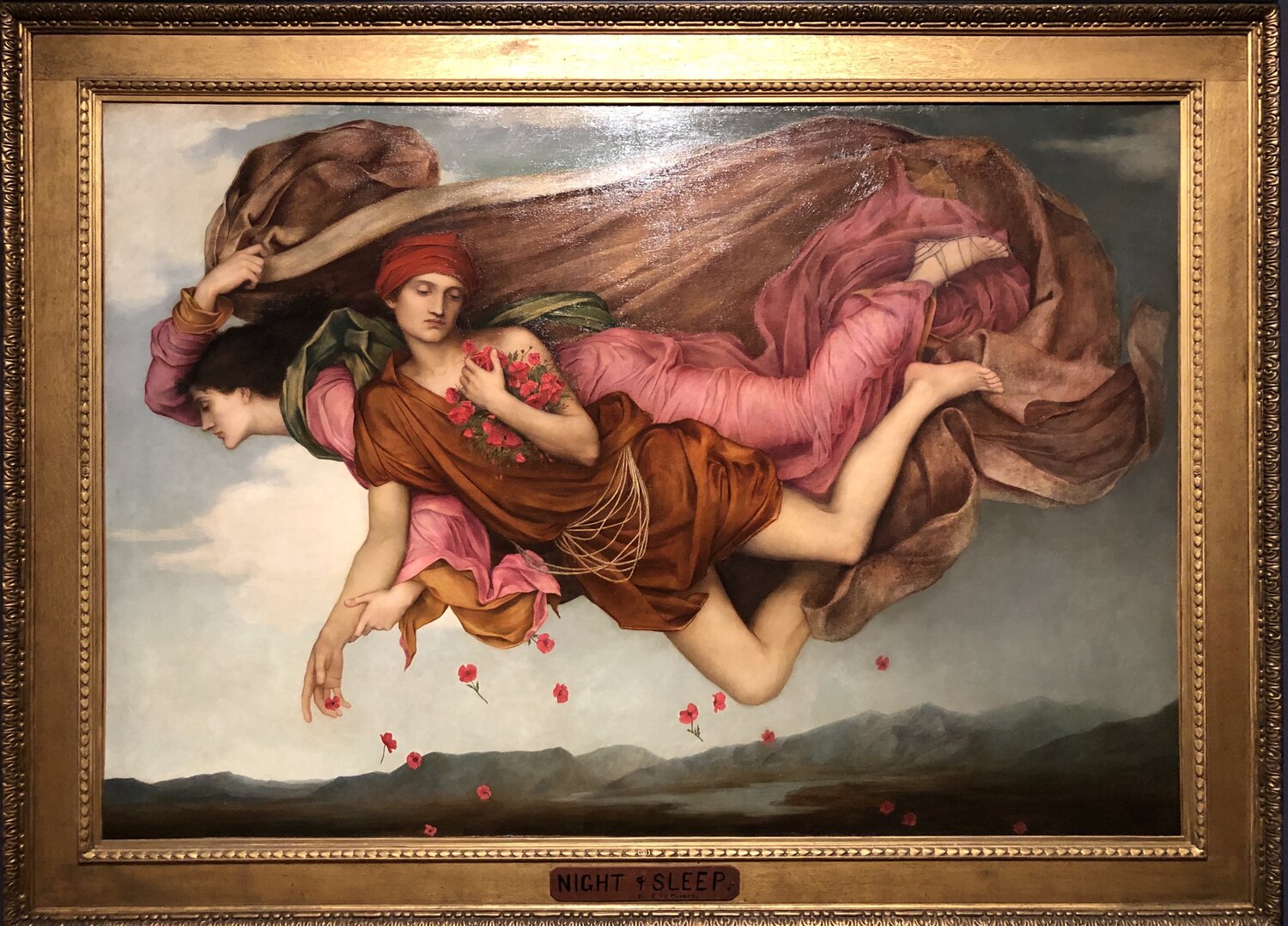 Night & Sleep, Evelyn De Morgan, Oil on canvas, 1878 (photo by Alexandra N Sherman in the exhibition)
I was particularly struck by the paintings of Evelyn De Morgan, her 1878 "Night and Sleep" in particular. It is a large painting, roughly 52 x 74 inches. The colors are vibrant and striking. I was most drawn to her incredible composition, my eyes falling in and out of all the lovely positive and negative spaces. I am in awe of how the figures float, mimicking sleep, their limbs languid, falling into soft and elegant angles. One could get lost in the folds of the drapery…
You can see echoes of Botticelli's The Birth of Venus in the mass of the figures, yet De Morgan has given them a softness embodying the escape of sleep, which might only be present in the gaze of Botticelli's Venus. My favorite passage in the painting begins with the elegance of Night's gentle support of Sleep's arm. I follow the lines created by their arms to her silhouette, which is made up of subtle undulations of line and shifting angles coming together to create her face and neck. Her arm thrown over her head, as if in slumber, continues to draw my eye around the composition. Her hand softly grasps the mantle which billows gently behind to serve as a backdrop for the figures. The drapery then propels your eye around the composition once more. Night's face and Sleep's arm are my way into the painting.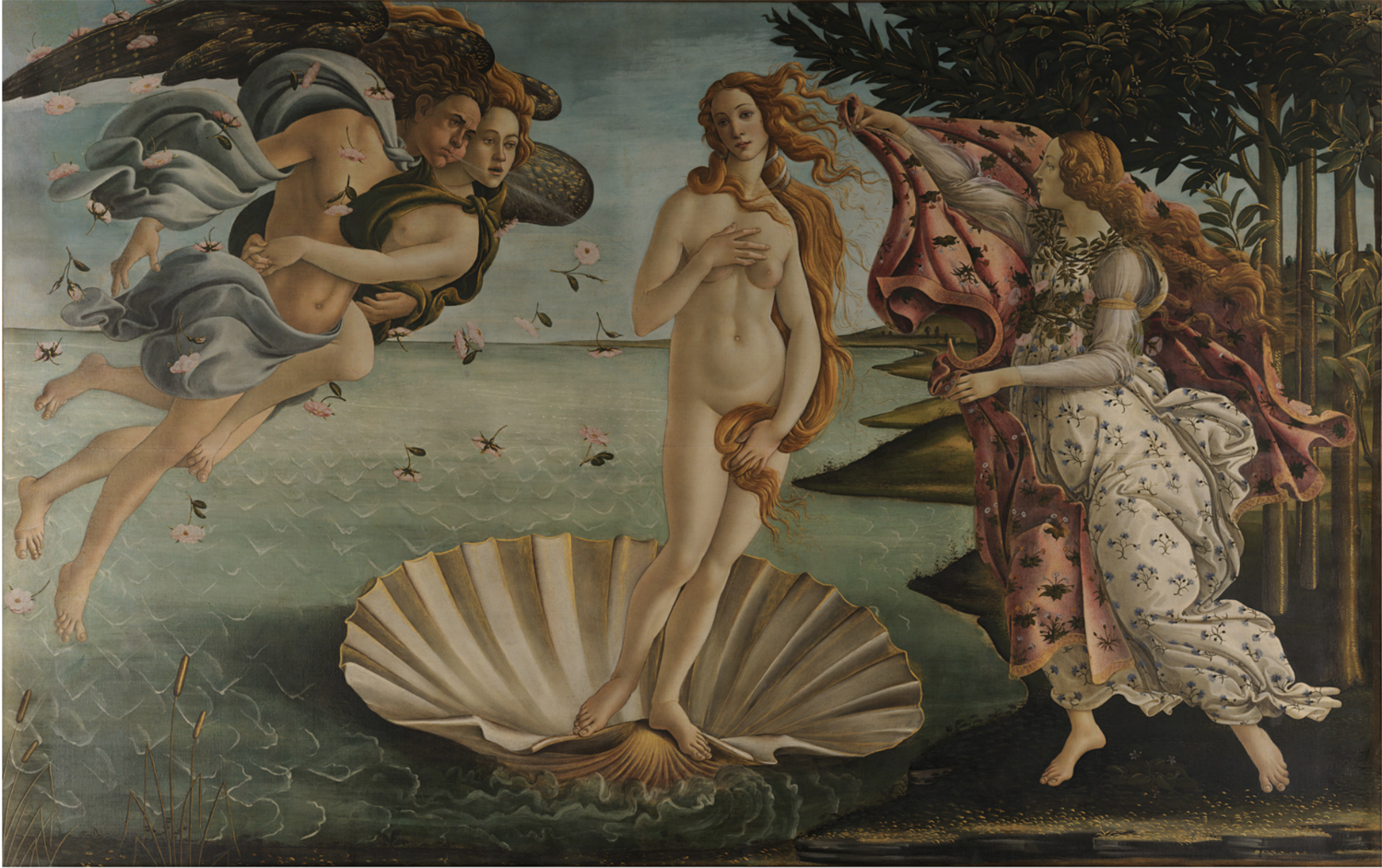 Botticelli, The Birth of Venus, 1485-86 (Image courtesy Wikimedia Commons)
The other paintings in the exhibition by De Morgan were just as striking in their own ways with their incredible details, interesting narratives, and gorgeous colors. But I have become obsessed with capturing this "quiet" that De Morgan conveys in Night and Sleep and something of her composition. I have been working on my silhouette series again after a break of almost a decade. I keep returning to look at the picture I took of Night & Sleep.
You the viewer must decide if and how you see the influence of this work in the my two silhouettes (below), Climate Sadness and Where Ocean Meets Land.
Where Land and Sea Meet, Alexandra N Sherman, Watercolor on Arches HP, 14.25 x 10.25 inches, 2020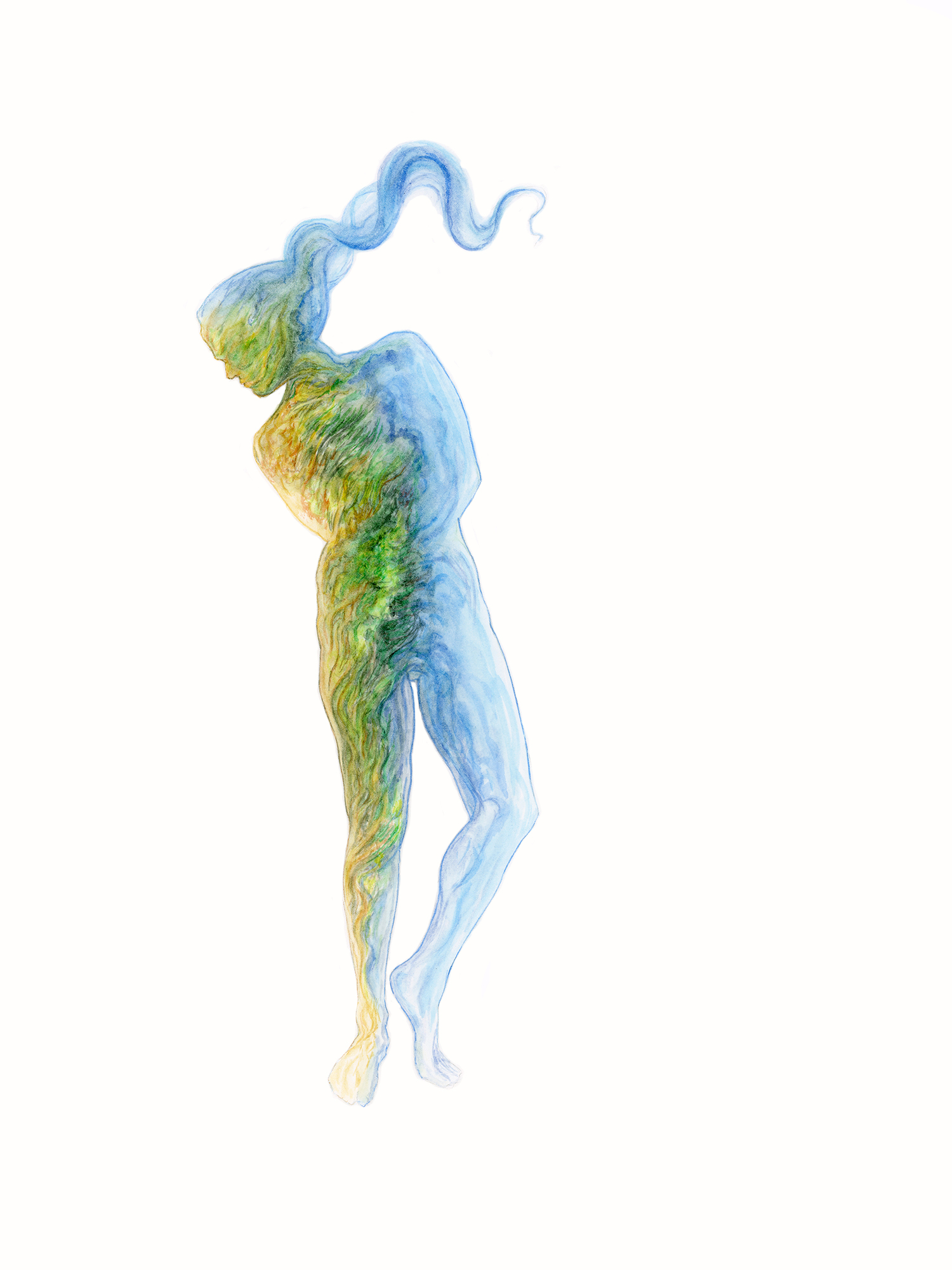 Where Land and Sea Meet, Alexandra N Sherman, Watercolor on Arches HP, 14.25″ x 10.25″, 2020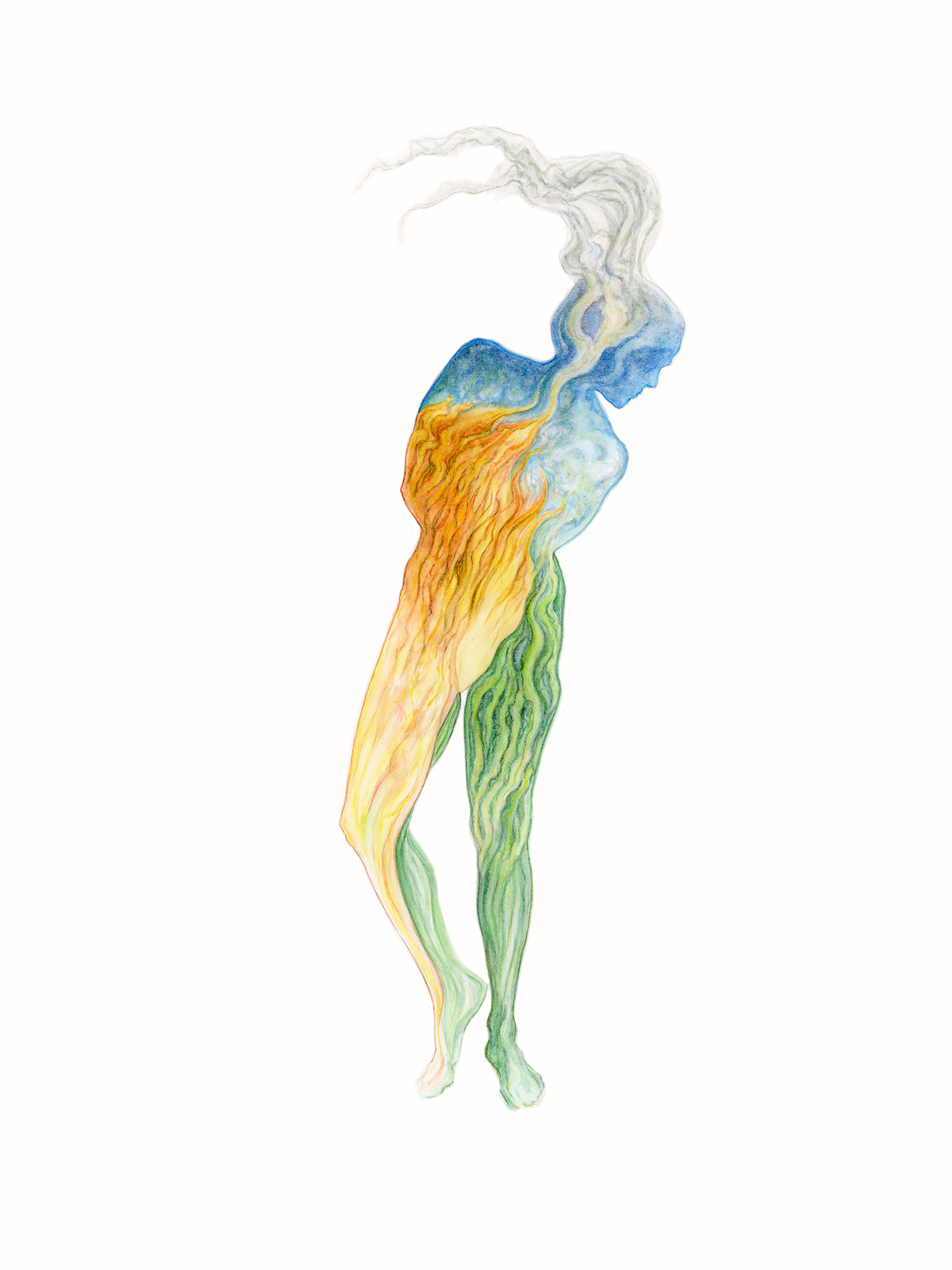 Climate Sadness, Alexandra N Sherman, Watercolor on Arches HP, 14.25″ x 10.25″, 2020
As an aside… this Pre-Raphaelite Sisters exhibition was criticized for not highlighting much of the work of the models, wives, and women artists associated with the movement. I think this exhibition laid a strong foundation for many future art historical enquires. I wanted to look deeper into De Morgan's work and sought out a book. If you google her you will find a 2002 volume, which is listed at $899 (obviously out of print), and a few other volumes, which are derided for their poor quality. I often find similar results when seeking to research the work of women artists. I hope there will be more of these exhibitions and that they will continue to inspire art historians to illuminate the work and lives of others who have received little scholarship in the past. I was happy to find the De Morgan Foundation, which has information about her life. De Morgan was the first women to attend the Slade School of Art, and created over 100 oil paintings during her life (1855 – 1919), and numerous drawings. You can see more of her work here.