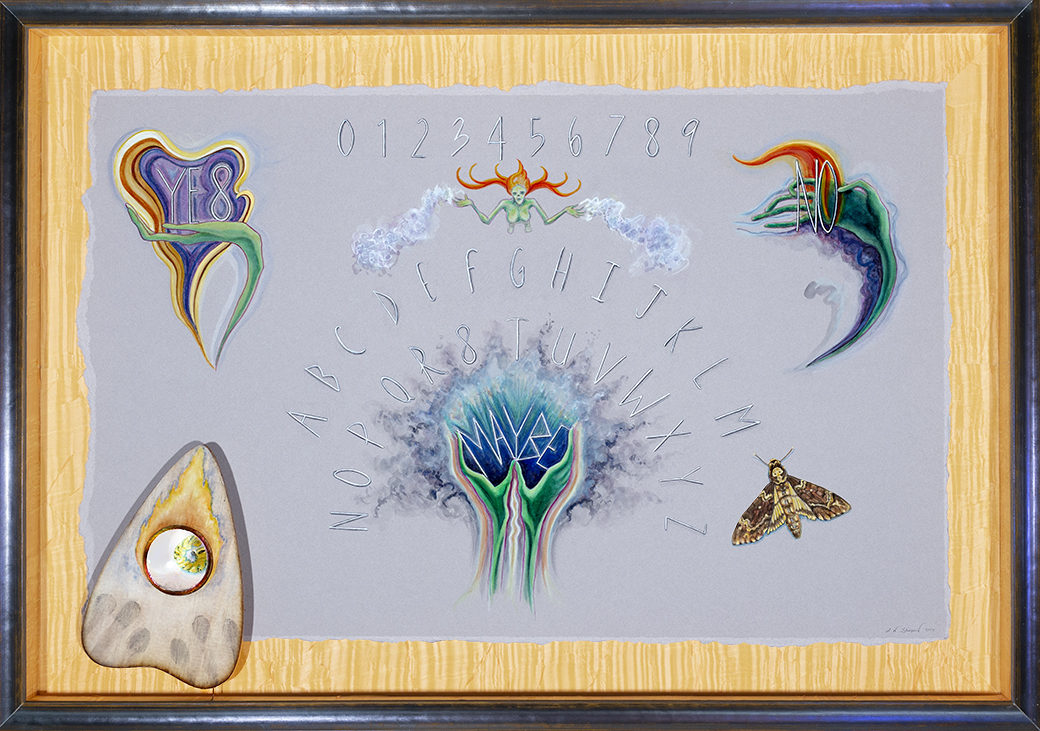 UNCERTAINTY – Ask the Spirits for 2020 Revelations…They May Answer, watercolor, wood, glass, gold leaf, silk, on 2 ply museum board, 2019
September 17, 2019
I am honored to have been invited to create work for the 2019 Athenaeum Invitational, Board: Out of Our Minds. You can read my artist statement concerning the work, the artwork that influenced it, and the Athenaeum's call below. The creation of this piece challenged me in myriad ways. I found myself painting with great trepidation, fearful of making a mistake. Once I accepted the possibility that I might fail to create something of worth, I was able to paint boldly. This shift in thinking helped me realize that the this piece afforded me an opportunity to go places in my work that I hadn't previously explored. I have never created my own font before, and I have never made a board game, painted watercolor on wood, or mounted a three dimensional object to one of my paintings. If you see the piece in person you will be surprised by the iridescent paint, which flashes and shimmers depending upon your viewing angle.
The exhibition is on view through November 10th at The Athenaeum Gallery located at 201 Prince St, Alexandria, VA. The gallery is open Thursday – Sunday 12-4PM.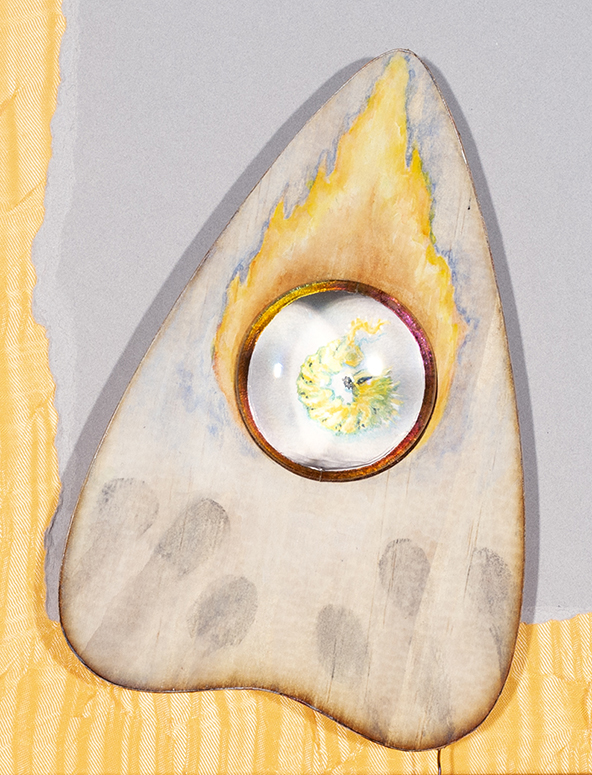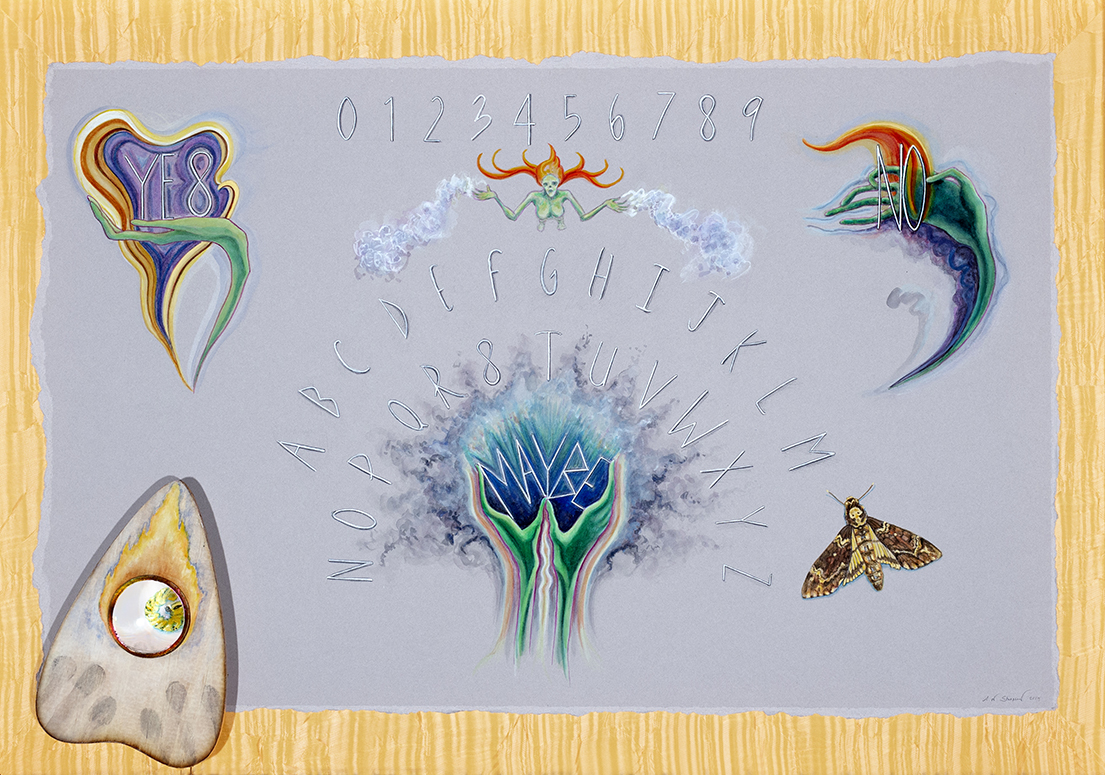 Planchette with glass cabochon detail of Death's Head Hawk Moth Caterpillar
Detail of board without frame
Artist Statement
This Spirit Board reflects our age of anxiety. The divided state of our nation. Unrest around the globe. The dire reality of climate change. Pollution poisoning the environment. Impending mass extinctions.
I wish we had answers, quiet, unalterable truths to fall back upon to cope with these soul sucking issues. Disinformation and polarization fuel this sense of uncertainly, compelling us to seek alternate sources of assurance, such as the spirits of The Great Beyond.
Spirit boards have been considered a parlor game for over a century, but they have their roots in spiritualism. When I think of Spiritualism, visions of dark rooms with ghostly apparitions, séances, otherworldly experiences, charlatans, and people trying to find comfort populate my mind.
As a teenager, I played Ouija with my friends. We delighted in being spooked by this game which was forbidden by some. There was something powerful about the planchette moving across the board revealing messages from some unknowable realm.
My spirit board is a bit of tongue in cheek. The Skele Lady presiding over the board appeals to us with a great shrug, her hands held up in the defeat of unknowing. The possibility of YES is offered up to us on the palm of a spirit's hand, while NO is squeezed into negation. I have replaced the traditional GOODBYE element with a MAYBE, because even if there are spirits, they are unlikely to have all the answers, or perhaps they simply do not care to concern themselves with the realm of the living.
To ask for certainty is a useless endeavor. But one can always enjoy a diversion.
The planchette sports a flame atop, symbolic of the burning questions to be asked and answered. The fingerprints on it are an invitation to play. The Death's Head Hawkmoth, named for its skull-like markings, is presented in Trompe L'oeil fashion as if he has just alighted upon the board. The moth is a dark omen. The Death's Head caterpillar is symbolic of transformations from one form into another and what has yet to be revealed.
The green color of the spirits is inspired by the mid to late 19th stories of the color Paris or Emerald green. The color was so full of arsenic that it proved deadly to many who produced it, worked with it, and consumed it in the form of fashion, cosmetics, toys, household decor, and even as a food colorant. Entire families were poisoned by this gorgeous color, yet it was never outlawed. I chose this green as an alternative to the traditional idea of a spirit being white in order to suggest danger and a toxicity. The grey board is representative of the great beyond, as an obscure, unclear space.
This piece took me months to manifest. I looked to a number of artists for inspiration. You may be able to discern the influence of artists such as, William Blake, Edward Gorey, Franciso De Goya, Leonor Fini, Alfred Kubin, and the art nouveau movement, specifically Henri Privat-Livemont's Absinthe Robette poster, and the work of Georges De Fuerre.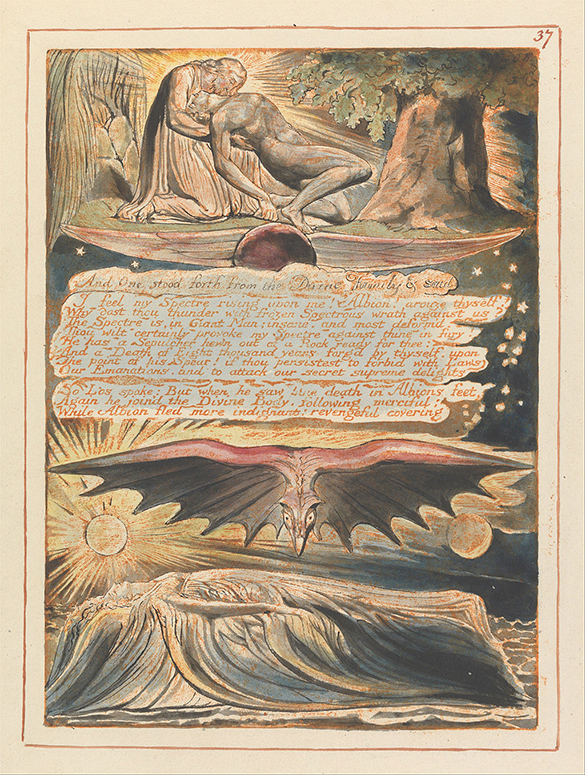 William Blake, Jerusalem Plate 37 "And One Stood Forth…" 1804-1820 (image courtesy Google Art Project)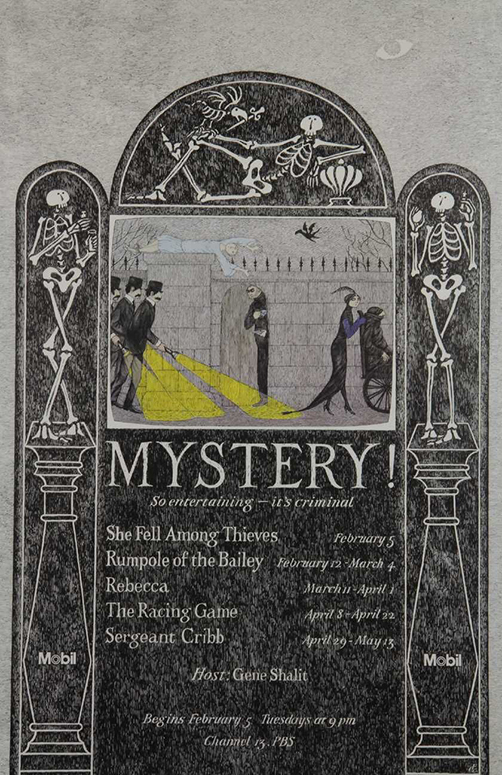 Edward Gorey, Mystery, poster for Masterpiece Theater (Flickr)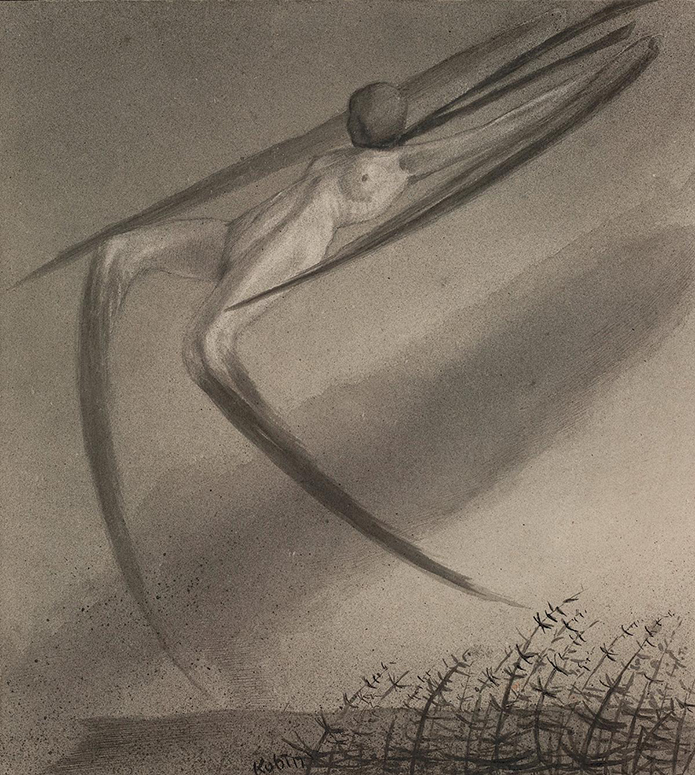 Alfred Kubin, Jede Nacht Besucht Uns Ein Traum (Every Night We Are Haunted by a Dream) c. 1902-3, Albertina, Vienna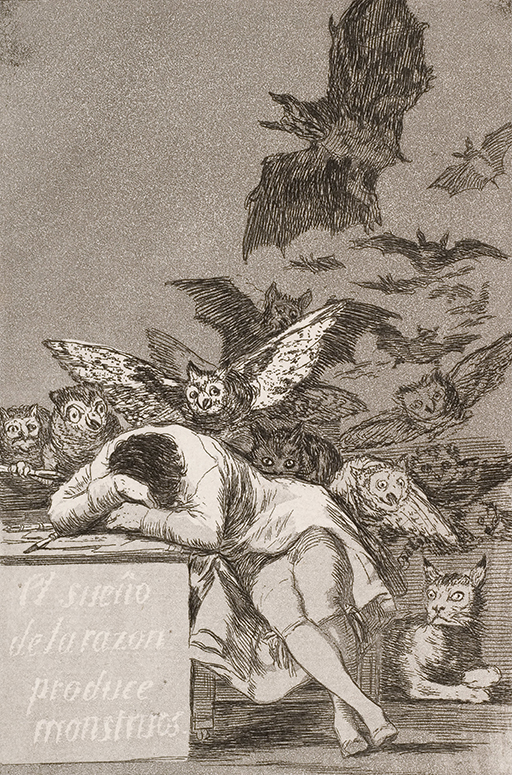 Francisco José de Goya y Lucientes – The sleep of reason produces monsters (No. 43), from Los Caprichos, Google Art Project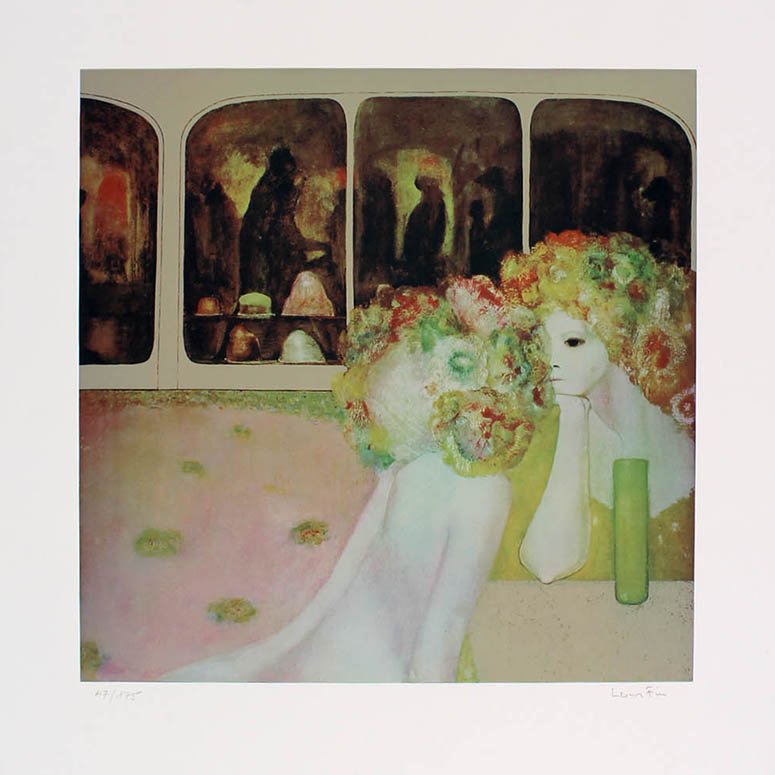 Leonor Fini, L'Autre Cote (The Other Side), Color Serigraph, 1976. Gallery of Surrealism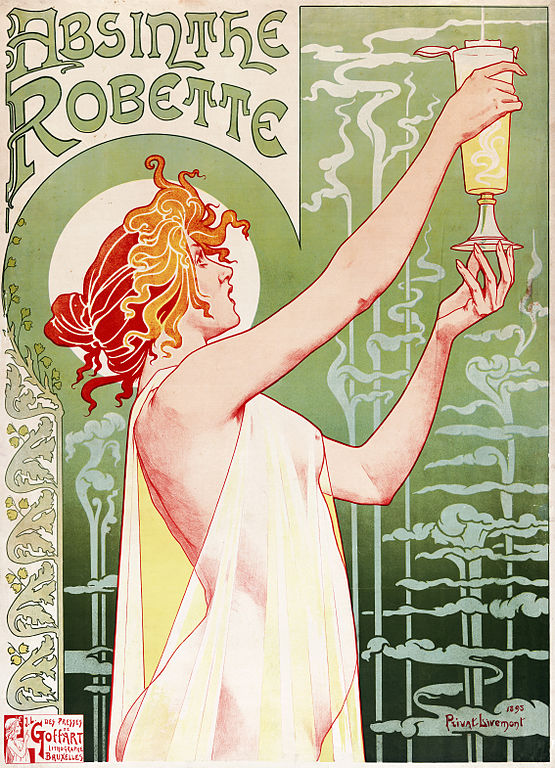 Henri Privat-Livemont, Absinthe Robette, 1895, Wikimedia Commons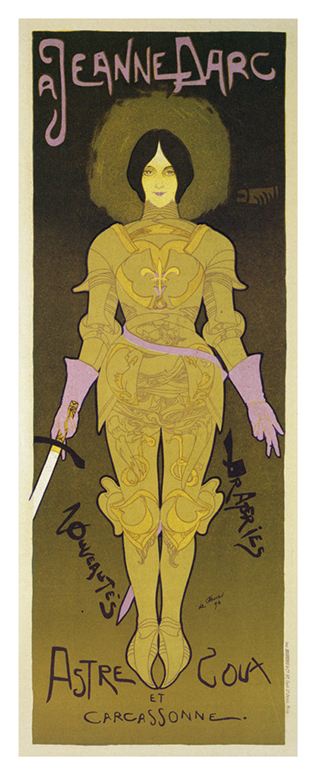 Georges de Fuere, Jeanne D'Arc, Les Maîtres de l'Affiche, 1897, Flickr
Athenaeum Invitational Call
From a purely aesthetic perspective, artists can submit work that relates in any way to board games which might explore a real or imagined board game, an environment where board games are being played, or people playing board games. Or artists may wish to develop a board game using their style and media of choice.
The possibilities are endless — games as a means of dealing with social issues or escaping reality; games as a reflection of a labyrinth or path to justice. Perhaps a game might be way to explore the world or experience other cultures. Entries might be inspired by childhood memories of Candyland and Monopoly or today's issues such as climate change or political rancor. Have fun with the very concept of a game.
While this is an open call for an art exhibition, entries that demonstrate creative brilliance through the core concept and game design are encouraged – as long as the end result can be hung on a wall with picture hooks and communicates the general idea or a particular aspect of the game with no more than a 750 word description.